How Clubs like Yours Ran in 2021... And What You Need to Know in 2022
We're approaching the end of another year, and with that comes time for reflection. When running a business like yours, it's important to sit down and think about what's worked well, what hasn't worked so well and where new opportunities lie.

To help you along with this, we've been digging into the data from 3000+ clubs to see the popular trends and juicy stats of 2021. After all, it's helpful to know how clubs like yours are running and if parent behaviour is changing.

So grab your notepad and get ready to jot down some stats and ideas for the changes you'll be making after reading these fascinating data trends!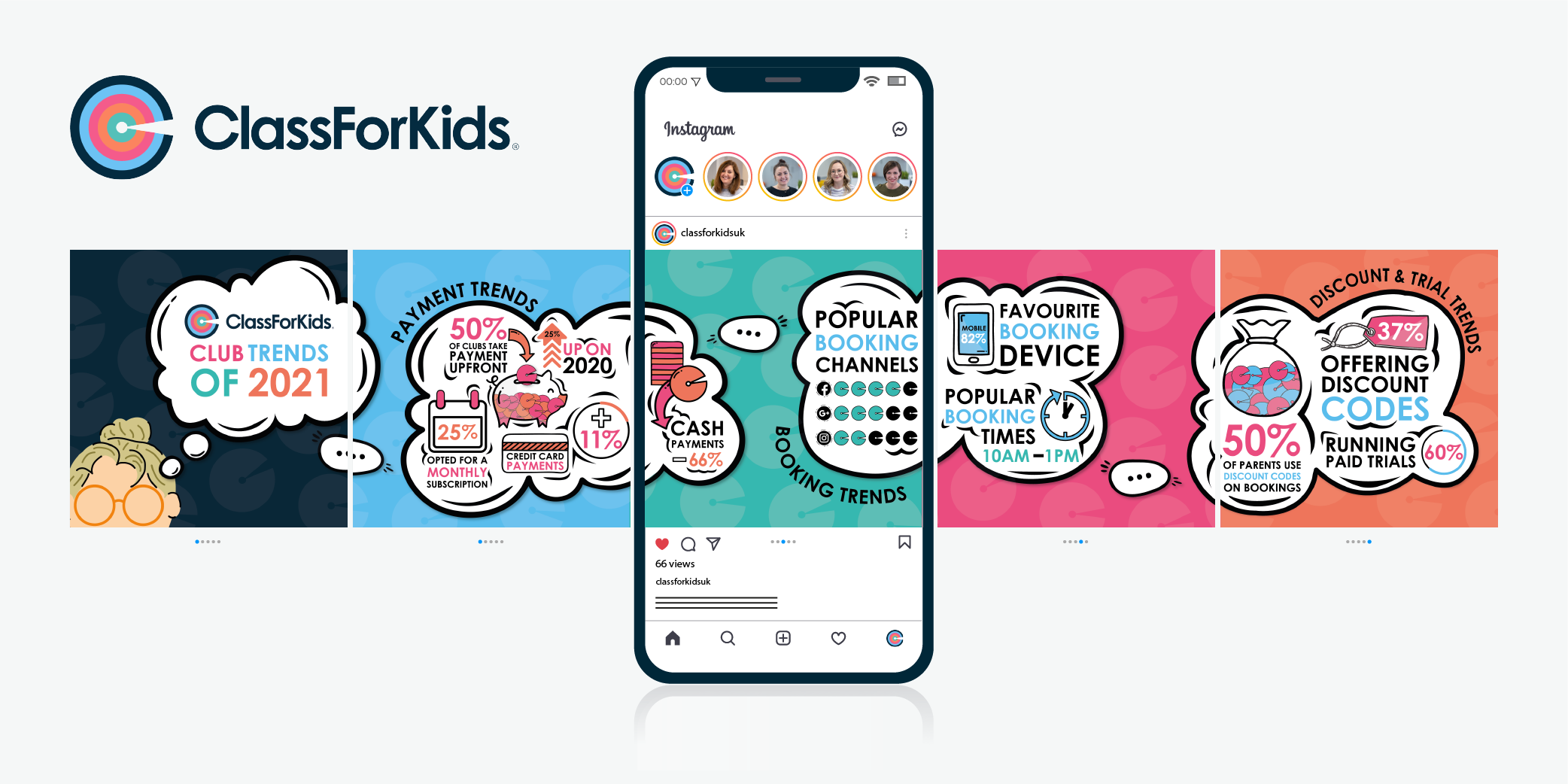 How Payments Changed in 2021

Let's start with the payments trends of 2021. We asked ourselves: how were clubs like yours were processing payments, whether payment methods changed from previous years, and how parents were opting to pay for classes.

In 2021, over 50% of clubs opted to take payments at the point of booking. But why does this data point matter, and how can you benefit from it? Well, it means you know who's paid before they turn up to class and cuts down on chasing payments. The number of clubs doing this increased by 25% in 2021, meaning more clubs want the security of payment at the time of booking.

Taking payment at the booking stage is super easy with ClassForKid. Our Payment Secures Booking feature lets you keep track of every payment, eliminate the manual work, and gives confidence knowing everyone's paid before they're in class.

What's not to love? See for yourself below!

Unsurprisingly, 25% of clubs switched to taking payment via monthly subscription. Yep, more clubs across the kids activity industry are becoming like the Spotifys' and Netflixs of the world!

But why's this unsurprising? Because having a monthly payment model brings guaranteed cash flow every month, it gives you the confidence to make financial projections, and it lets you plan ahead to make the right decisions for your business.

And it's not just clubs that benefited from monthly payments this year - parents enjoyed the benefits too! Allowing parents to pay via monthly subscription makes your classes more affordable by spreading the cost over 11 or 12 months rather than one lump sum at the start of every term.

And finally, credit card payments are on the up (+11%) while cash payments dropped off the scale (-66%). This figure is hardly surprising given we've lived through a pandemic and see fewer people carrying cash.

But what does this mean for you? Well, more people want the ease of paying quickly and conveniently for classes. Think about going into a shop - we're so used to contactless payments and ApplePay/Google Pay, it's no surprise clubs are opting for the same. Making it easy for parents to book and pay for classes is a must going into 2022.
How Parents Booked Classes in 2021

Understanding how parents booked classes this year is important as it sets a precedent for next year. So we delved into when, how and where they booked.

Throughout 2021, the most popular booking times were between 10AM-1PM, closely followed by 8PM. And unsurprisingly, over 82% of classes were booked on mobile. But what does this tell us, and why's it important?

First up, parents are booking classes at a time that's convenient to them. In the morning: they're likely booking after school runs and/or nursery drop-offs. And in the evening: they're booking once they've settled for the night.

Going into 2022, you should be thinking about being adaptable and understand that parents want a simple way of booking at any time (even if that's 1 in the morning!). A good booking system makes this process easy for parents and allows you to drive traffic, bookings and data back to one central place!

Doing this helped Josh and Jamie at 1st Touch Football gain 200+ kids in just 5 weeks!


When it comes to where parents booked classes in 2021, we found the following:
40% of bookings came through Facebook

35% of bookings came through Google search

25% came through Instagram

In the new year, it's important to take note of these stats because it's where parents are hanging out and booking classes. You should already be thinking about: how to optimise your social channels and make it easy for parents to book directly (think about the mobile stat above!).

If you're already using the ClassForKids system, make sure you're:
Embedding your booking schedule into your website

Using the booking schedule link in the "contact us" button on Facebook

Using the booking schedule link in the bio of your Instagram

Encouraging parents to share your booking link to their parent directly from their booking confirmation (socials and messaging)
And if you're not using a booking system, you might want to consider one to make it easier for your customers to book and pay in one place.

The Discount and Trials Trends of 2021

And last but by no means least, we wanted to understand how clubs were using trials and discounts to incentivise their customers. So buckle up because here are the stats!

In 2021, over 37% of clubs offered a discount code to incentivise customers to book classes. For many clubs this year, discounts were a great way of boosting word of mouth amongst parent networks for those looking for new classes. But they were also a great way to re-engage customers who had fallen off the radar.


Offers ranged from sibling discounts to early bird offers to bring a friend for free. And it's not just clubs that were loving discount codes; parents scooped them up too (50% of parents used a discount code to book a class!). So going into 2022, you might want to consider using discount codes to incentivise your network to increase your bookings!

And when it comes to trials, over 60% of clubs opted to run paid trials in 2021. Charging a small fee - as little as £4 - is a great way of getting customers to commit to showing up! But depending on your opinion, you might sit with the 40% who offered free trials in 2021.

Whatever option you choose, trials are a fantastic way of showing potential customers what you have to offer! It's all about showing your value, making it easy for parents to book and pay and easy for you to convert them to full bookings.

And there you have it!🪄
All of the juicy data from how clubs just like yours ran in 2021. From payment data to booking trends, we hope you found some inspiration to take your club to the next level in 2022!
Pssst! Did you know we help 1000s of kids activity clubs just like yours with our genius class membership software?! 💡