Here's how to keep your customers engaged and get them booked into new terms!
When it comes to re-engaging customers, you want to remind them of the value you have to offer. But what does that actually mean? It means reminding parents why your classes are so great and why their kids love them so much!


While getting old customers through the door might sound simple, the reality can be very different. Without a clear strategy in place, re-engaging customers can be very time consuming and costly.


But fear not! We're here to dive into the details of how to re-engage customers so you can get them back through your doors!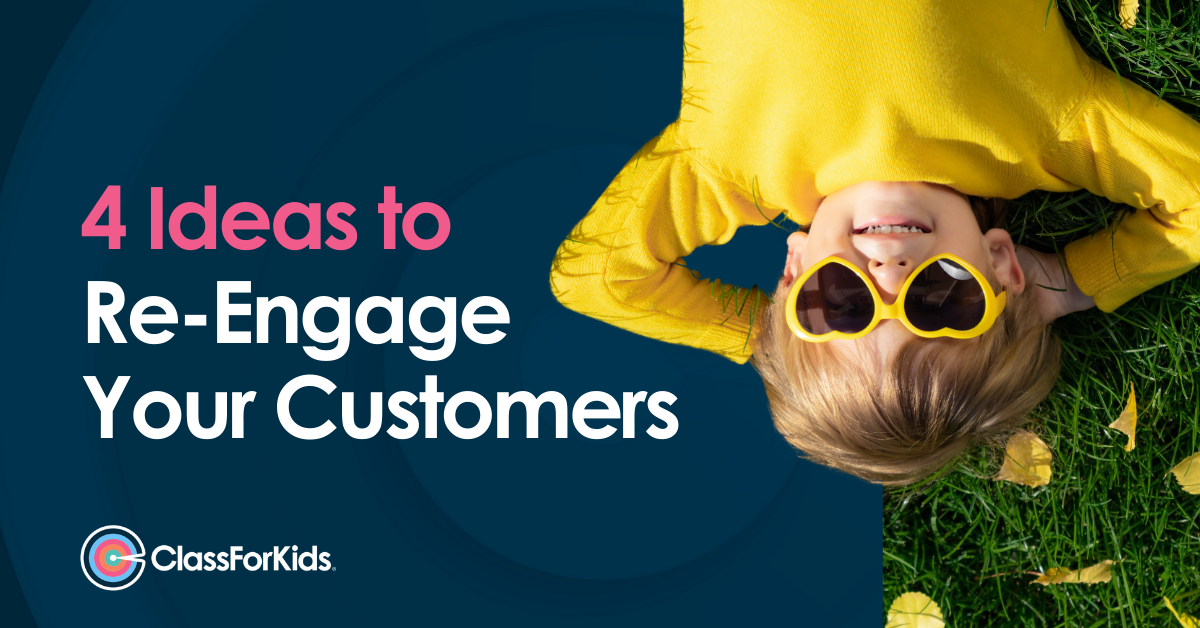 First Up...
To really get to the bottom of re-engaging your customers, you need to answer what makes you 'different'? Why should customers choose your club over someone else's? It could be your reputation, it could be the quality/niche of your classes, it could be the community you've built, or it could be all of the above.

Once you know what makes you different - what your USP is - you can then begin to create a strategy around re-engaging your customers. There are many ways to do this, but one of the best ways is through email marketing.


Creating an Email Marketing Strategy

Your best chance of re-engaging your customers is by having a clear email strategy. Here are 4 things you should consider in your emails when re-engaging your customers:


Start by segmenting groups in your email database
By sending emails to specific age groups or class types, you're personalising the communication and making parents feel like you've made time to re-engage them, and them alone. This is your chance to remind parents why their child was so great at specific classes and what they're missing out on!
Keep subject lines short but irresistible

This is one of the most important things in email communications but it's particularly important when trying to re-engage a customer. Try keeping to a maximum of 5 or 6 words and speak directly to your customer! If you're lacking inspiration, look in your own email inbox and see which subject lines you like. Make a note of the ones you like and why.
Tip: You could try creating a sense of urgency in your subject line to encourage customers to open with a limited offer, or you may want to personalise it!
Keep the body of your copy simple
If you've gone to the effort of having an irresistible opening line, you don't want to disengage a customer in the main part of your email. You want to make it easy for parents to understand what you're offering and what you want them to do about it!
Keep your call to action simple
If your customer has opened your email and actually read what you're offering, don't lose them at the final hurdle. Having a strong call to action is pivotal to success! Never leave a customer confused about what you want them to do - make sure your call to action is simple.
Try CTAs like: Book now, Grab my discount code, Re-Book today, Take me there!
Not sure where to start?
Download your free email templates👇
Be Clever with Incentives
Want to encourage bookings with an incentive but unsure of which to include? Here are a few ideas to get your creative juices flowing:
Discounts
What's one of the best things you could give a parent? A discount code! You may want to try an early bird discount to encourage bookings for new terms and camps for re-engaging customers.
Run Trials
If you're finding uptake for classes slow, why not offer free trials? They're are a great way of offering taster sessions and showing parents what value you have to offer. You could try a "bring a friend and get a class for free" trial offer to current customers. That way you're adopting the network effect to reach more people.
Ask for Feedback
If a customer doesn't want to continue with your classes and lets you know this, try asking them why they no longer wish to attend classes (in a friendly way!). Reasons for leaving can vary massively and could include anything from price to a lack of interest to better service. But feedback helps identify problems areas that you can eradicate from your business.

So there you have it! 👌
4 ways to re-engage customers with a clear email marketing strategy. Remember, it's all about reminding customers of the value you offer and getting them to take action today!
Feeling Inspired?💡
We've got a ton of free resources you can access now to help improve the efficiency for your club 👇