10 Easy Steps to Growing Your Business
Growing your kids activity business doesn't need to be a complicated process; it requires careful planning and a solid strategy. This is your ultimate guide to growing your business.
We'll look at ways to make booking and paying easier, how to invest in your classes, ways to engage your customers and how to keep them hooked in the long term.
Ready to buckle up and grow your business? Let's dive in.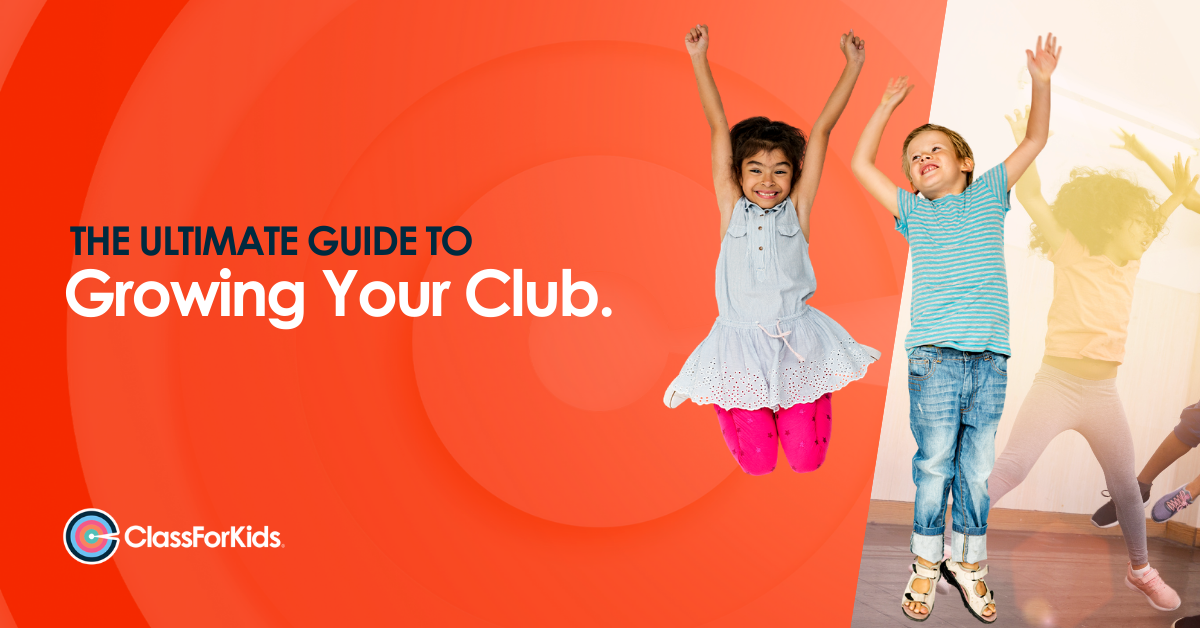 Make Your Classes Easy to Book
'Contact Us' Facebook-Button
60% of bookings happen on a social media platform, so why not let parents book classes with ease? Try letting parents book straight from your Facebook page - it'll make it simple to turn interest into new custom.

Optimise for Google
18% of new bookings come from a Google Search. The winners in this space are making sure that they come top of the search when parents look for 'classes in my area'.
TIP: Don't spend a fortune. Focus any ads on keywords and classes you need to fill. Direct parents straight to your class and booking information site.

Make Your Website a Seamless Experience
Avoid broken web journeys to keep all potential customers engaged from start to finish. With limited time and high expectations, are you overwhelming your customers or are you giving them what they need to know?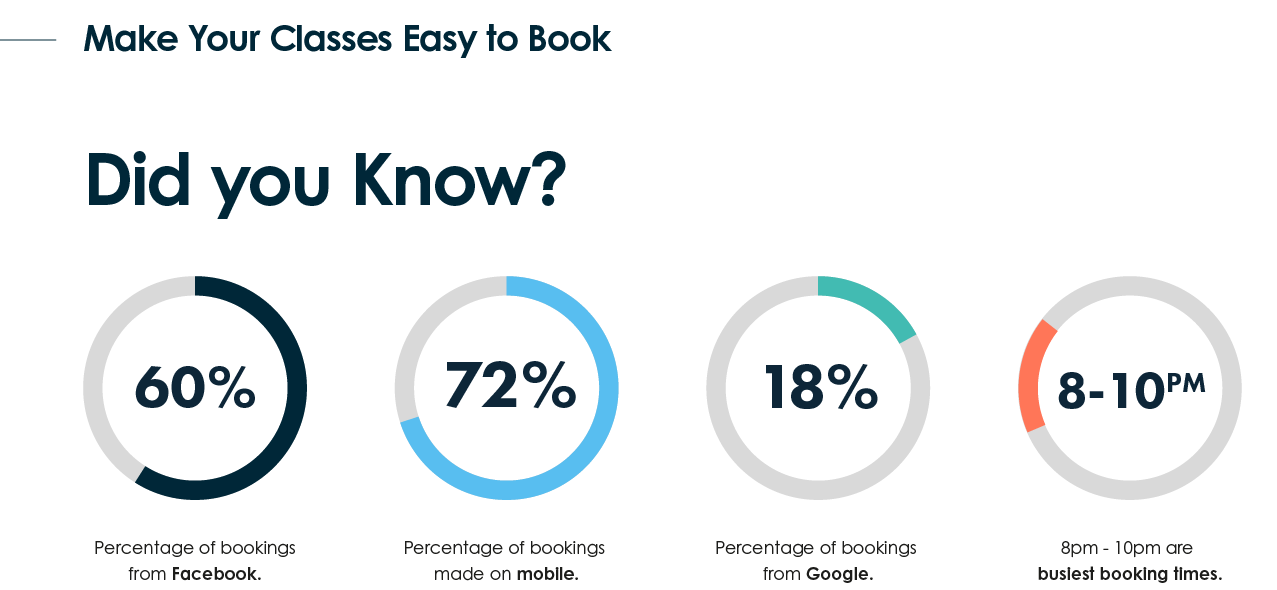 Invest in Your Classes

Get to Know Your Competition
Having a good understanding of competitors allows you to take the good bits and avoid the bad. Don't just look at their websites and prices, check social media and ask your own customers about their experiences with them.
TIP: What is your Unique Selling Point? Discovering this will allow you to put your own stamp on your club, classes, teaching style and branding.


Back Your Culture
Being self-assured in your club's culture will help you shine. You will begin to attract the right type of customer who will thrive in the environment you've created.
Engage with Your Parents

Communication Is a Two-Way Street

No matter how busy you may be, make the effort to keep parents informed about the great things that are going on at your club. Sustain and build those long-term relationships!
TIP: Consider issuing a friendly newsletter and post regular Facebook updates, photos and videos that engage your followers. They will appreciate this!
Turn Your Biggest Supporters into Advocates
Parents are rooting for you to do well. Channel their goodwill into active support and let them make your club even more of a success.
TIP: Social Proof is powerful; parents will trust and value the opinion of their friends, family and peers. If you haven't asked for Facebook or Google review, then DO!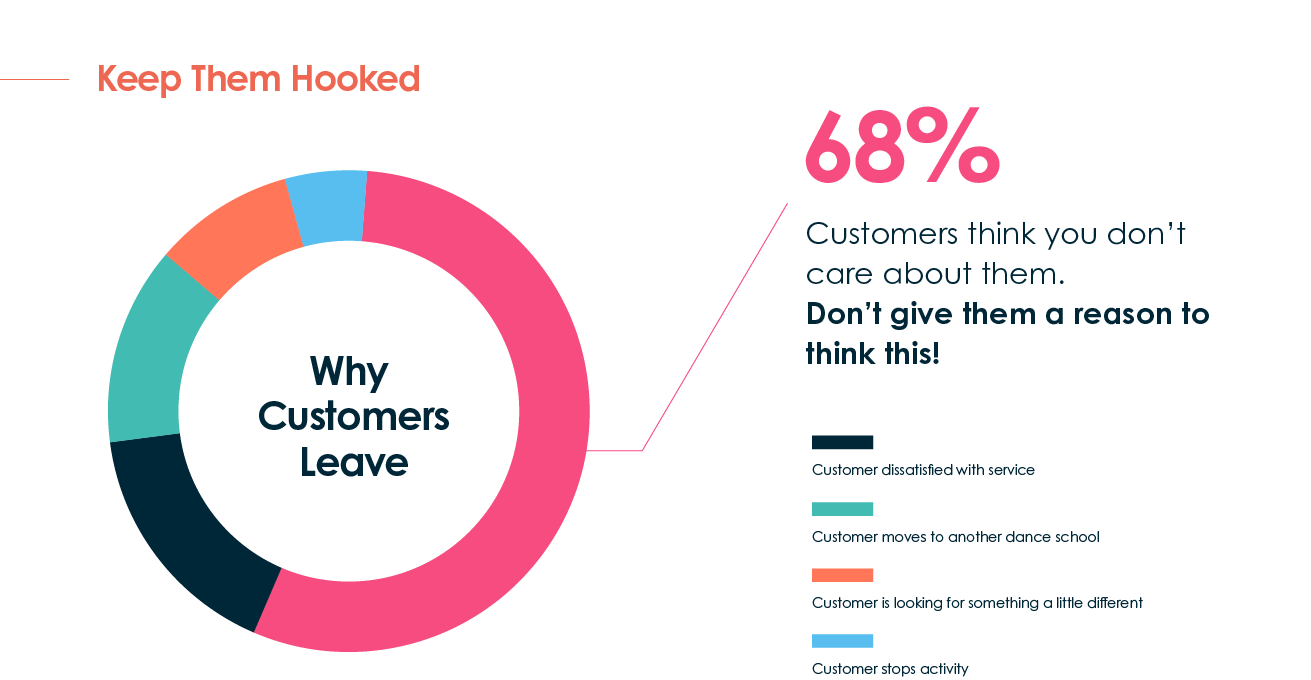 Keep Them Hooked

Get Them While They're Hot
If you offer trials, make sure you stay on top of your customer database and follow up quickly with an offer to book further classes. Don't leave anyone behind.
Keep Your Waiting Lists Keen
Never treat waiting lists as a safety net in terms of bookings. Be mindful that interest may wane and many of them may already be attending another club. It's worth keeping their interest peaked.
TIP: Reinforce their reasons for joining your waitlist by adding them to a marketing newsletter, reminding them of all the great things happening at your club, and giving them the chance to join camps, events, and workshops.
Encourage Long-Term Commitment
As a club owner, you should be thinking of ways to make it harder for your customers to leave. Get them even more invested with additional revenue streams and opportunities, such as branded merchandise and annual memberships.
TIP: If you seek income security, consider switching to a monthly subscription payment plan. This will make it more affordable for parents, they only need to set it up once and will encourage them to stick around longer.
Want to achieve long-term, sustainable growth for your business?