How to Find the Right People at the Right Time
So you've got a great business; your classes are going well, you've got a great culture and there's lots of growth potential. But there's one sticking point - the right people.
Having the right staff alongside you in your growth journey is crucial to your success. Why? Because you want people who are committed to supporting the success of you and your business. So where do you begin your search? Let's dive in and find out!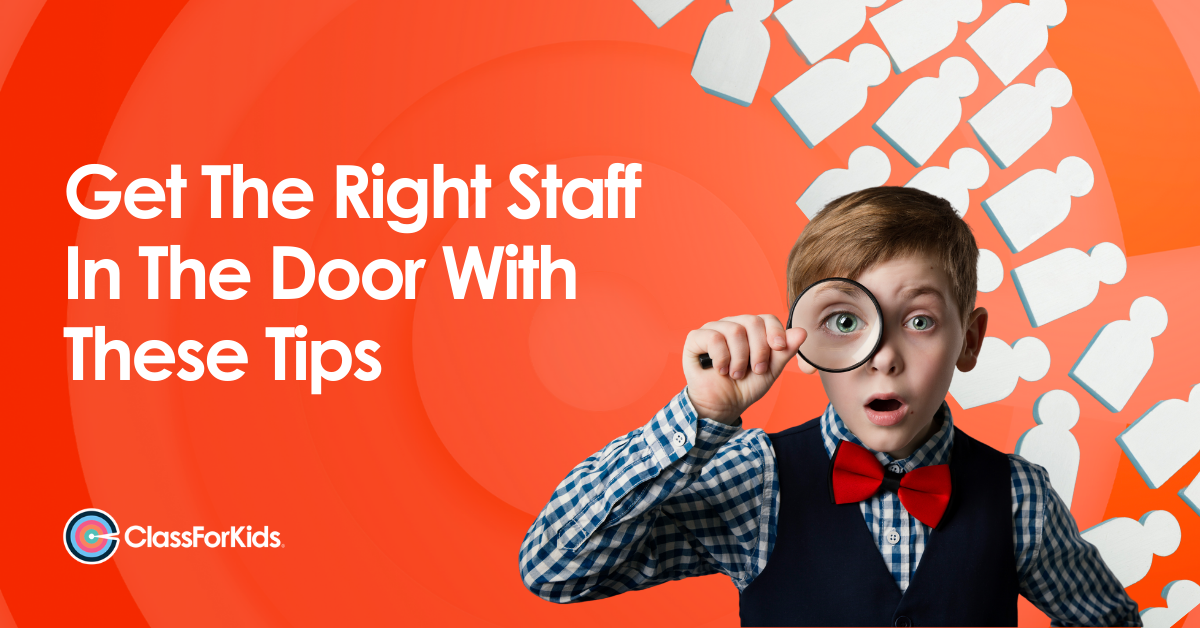 First Up - Why Do People Matter?
People are fundamental to the success of your business because they're the face of it. Every interaction with customers in person, every email, every message matters - but how do you get it right?

Think back to when you started your business - what was important to you? What did you want your club to be known for? What were the values you weren't willing to compromise on? You want to find people who have similar values to those of your business.

Sharing the same values and work ethic makes for a positive environment. And failure to find the right people to join your team can have a BIG impact, including financial implications and reduced morale/productivity.
So, where do begin your search for the right people?
Looking Closer to Home
Okay, so you've thought about who you want but how do you find them? Starting your search may seem overwhelming but it's important to get this part of the process right. Don't limit your search by only hiring ex-students or relying solely on word of mouth; be prepared to broaden your horizons.
Start by reaching out to your network.

C

hat with your connections on LinkedIn and reach out to the people you've worked with previously to see if they or anyone they know is job hunting.


Advertise in the right places. Look at where your competitors are advertising or search for the job roles you're hiring for to see the best place to advertise. This will give you a headstart without spending a penny.


Make use of your socials. Advertising roles on your social media is a smart move as it's often the first place people look once they're aware of your brand. You may even want to run a small budget ad behind your recruitment to reach the right people.


Try university and college job fairs.

S

ure, graduates may be fresh out of education but as long as they have suitable skills and values that match yours, it could be a match made in heaven.
Structured Career Paths
But creating the dream team isn't just about recruiting the right people; it's also about giving them foundations for a successful career. The clearer the structure and expectations of the role, the better chance employees have of succeeding.
Here are 3 things to help you with this 👇
Implement a structured onboarding process to set new hires up for success. Put yourself in their shoes - what would make your first day in a new job less daunting? Leave time to talk about the great culture you have at your club and take time to meet the rest of the team.


Set up a buddy system for new hires to get to know other people and the processes at your club. Having someone there for new starts to ask questions or spend time with is a great way of making them feel part of the team.


Have regular check-ins with new employees. This creates space for you to review their performance and have an open discussion around how things are progressing.
When's the Right Time to Hire?
When it comes to hiring a new team member, it has to make strategic and financial sense to add someone to the team. And as a business owner, you'll have a gut feeling of when the time is right. But here are some of the signs to look out for 👇
If you're finding you don't have the time to take on new customers, it's time to get an extra pair of hands!

You're spotting growth opportunities but don't have time to plan how you'll do this.

The quality of your classes is being affected! Don't hang around- spot where the gaps are and get hiring.

Drowning in paperwork? It's time to start your search, pronto!


Hey presto 👌, you've just discovered the perfect way of adding people to your team. As long as you answer who, why, when and how, your nightmares of recruitment are no more.
Keeping your staff happy is important. That's why it's great to take the admin burden from them with a system like ClassForKids. They'll have instant access to registers, parent communication and so much more.
Sound like the perfect solution? 👇
Come and chat with one of our business development coaches -
they'd love to hear from you!