A Look at How Other Academies Are Increasing Engagement with Great Football Session Plans.
Thinking of ways to continually improve sessions is challenging, but it's the clubs thinking outside the box that win. So what does pushing the boundaries of creativity and challenge look like? And how can you maintain engagement in sessions in the long-term?
We've been looking across the industry to see how other clubs are improving sessions. So whether you're running classes online or moving outdoors, here are 10 ways to revamp your sessions for a variety of ages….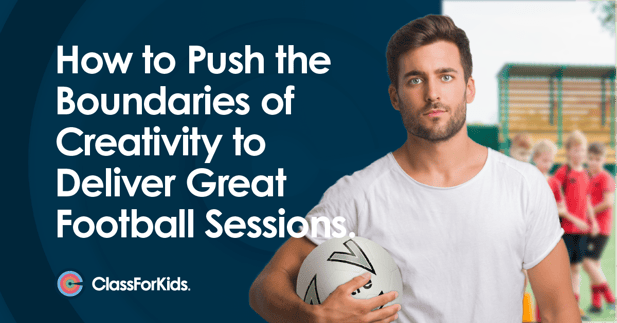 Ask your players to analyse themselves and focus on where they want to be 6 months from now. Create a personalised form around improvement and get players to reflect on what they want to do better, where they can improve or areas they feel confident in. Ask players to email you a copy, have a call to discuss techniques and pull out common themes for the group to focus on each week.

Create activity books that can be purchased for a one-off fee. Players can complete these over a specified period, and once completed, they receive a certificate. This will allow players to continually improve their technique remotely. To generate more income, you could include various levels for each class by creating a syllabus for them to follow at home.

Skillz Football Academy keeps children engaged through imaginative play. Drills are no longer drills - the kids dribble the ball on 'land' to avoid the crocodile cones. Managing Direction Ashley believes in this method because taking the time to speak to them and understand their interests encourages learning. Ashley does all of this alongside his syllabus which includes all individual aspects of football to help develop them as an overall footballer. Why not try this out in classes?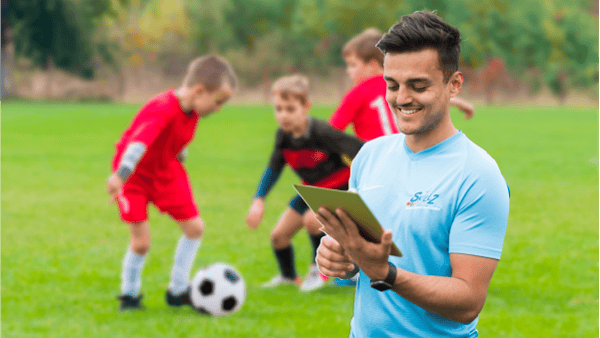 👉Find out how Ashley's club grew by 33% in a year.👈
Coach's Eye' has increased engagement in classes at PlayItLoveIt. This tool offers you and your coaches a new way to improve player technique and performance. You can monitor players via video, whether on the pitch or from home to help improve their technique. Whether it's adding voice narration, slowing playback down, providing refined, accurate feedback or adding notes on ways to improve, this is a great tool to use both in outdoor sessions and online. Having this tool can help you expand the services you offer. It could be small group sessions or 1-2-1 which can be packaged as a premium service providing additional revenue streams.




Set short, fun challenges that will focus on improving strength and technique. You could include reps of 30 seconds and include some of the following: toe taps, mountain climbers, press-ups, keepy-uppys etc. And the best part? This can be done on the pitch or at home!



Some clubs have been setting challenges through fun games like football bingo, having players record themselves carrying out techniques and sending back to coaches for feedback. This is a great opportunity for developing skills at home and you could also increase engagement by setting competitions.
Struggling with online content? Head to our resources page for more ideas.👇
In the virtual space, why not try Zoom ball mastery workouts? Set this at the same time every week and encourage players to work on techniques, strength and skills throughout the week with refresher content every week.

Have players work on theoretical techniques by designing a set-play competition at home. The best set-play could be used in games going forward when you return to your space and the individual player wins a football.

Get the players to come up with their own remote session plan for you to roll out to everyone. Pick the best one or take turns. It will give them confidence and a sense of ownership.


Set a competition with smaller groups of 2/3, it'll encourage them to engage on zoom to plan. You could set the challenge and each team has to work towards it, or you could leave it open and let the video submissions be based on most impressive footwork. It's up to teams to discuss their strengths and weaknesses.
So there you have it! Changing up your sessions is a great way of engaging children in classes - and keeps them interested for longer. Always ask yourself if the change you are making will improve player performance and technique, but is also something they're likely to engage with.
Was this advice helpful?
Why not get in touch with one of our business coaches to help you reach your goals?