Our Top Tips on What It Takes to Create the Perfect Facebook Ad for Your Kids Activity Club
Understanding what it takes to build the perfect Facebook ad is no easy task. From knowing how often you should advertise on Facebook to using Facebook for business advertising to building the perfect Facebook ad - it's enough to give you a headache!
So we've decided to share our top tips on creating ads that'll bring you results. Curious to know why copy, creative, and connection matter when it comes to Facebook ads? Then read on to find out more!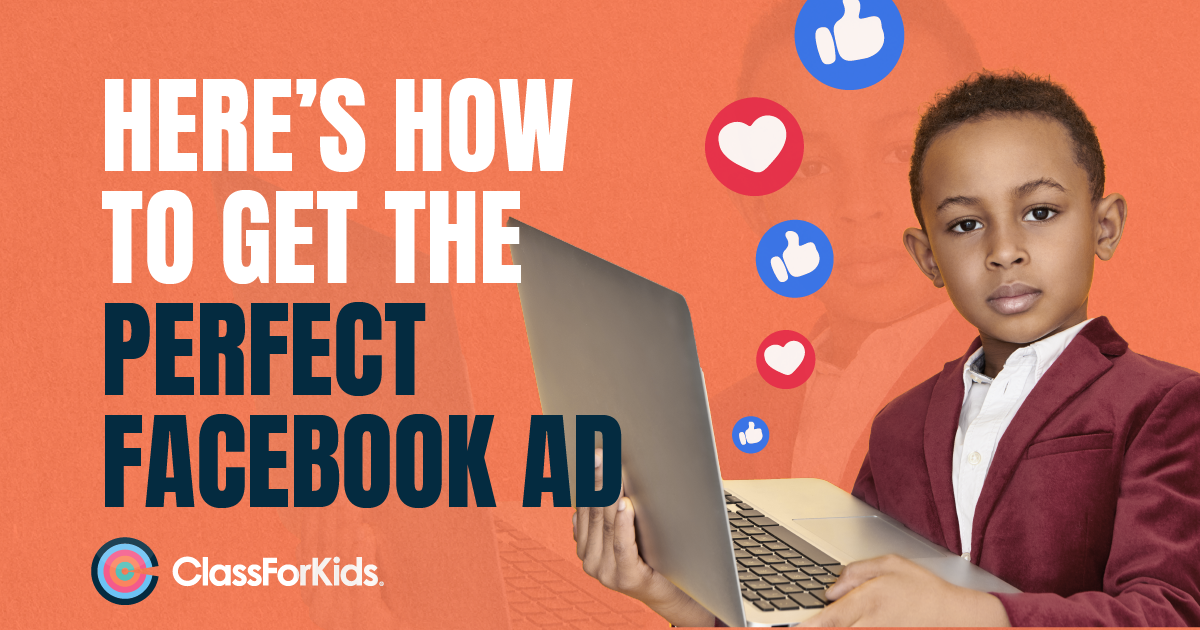 So What's the Purpose of Facebook Advertising?
Objectives are crucial. Full stop. And Facebook ads aren't any different. Facebook advertising for your business shouldn't be a checkbox on a list. You should invest in Facebook ads because they can bring meaningful results to your business - like more bookings or enquiries.
But before writing any old thing and pushing it out - stop and consider what you want to achieve. You may want to fill a new class, increase the number of trials or get a certain number of enrolments each month. Doing this helps you'll refine the purpose of your ads which directs your copy and creative.
Start Writing Effective Facebook Ad Copy
Getting your ad copy is key to success, so you should always include a hook to grab attention, an offer customers can't resist and a clear call-to-action.
What is a hook, and why does it matter? Well, it's the reason a customer should take the action you're asking them to take. It should grab their attention, so talking to them directly or highlighting a pain point is a great place to start.
Tip: Try not to be generic. It's always better to be specific and talk directly to your audience. Start your ad copy with, "Parents of [location X] and surrounding areas" and target that location, or try a "Did you know?" style post.
But a hook isn't enough for customers to take the action that you want them to take. Your ad copy should also offer the customer something. Whether it's a free trial or a discount code, ask yourself why they need it and how it will benefit the customer.
Tip: To help customers take the call-to-action you desire, make sure your offer is too good to miss! And make it time-bound. For example, "We're offering a free trial to everyone who signs up in the next 24 hours!".
Make sure to include the benefits of your classes in your ad copy too! Whether it's improved fitness, focussing on mental well-being, or helping with essential life-skills - show parents what your business can give their children.
And finally, when it comes to ad copy, don't forget a clear call-to-action. A call-to-action should be concise and drive traffic to your website or booking form. Why not ask your customers to find out more, contact, or visit the website?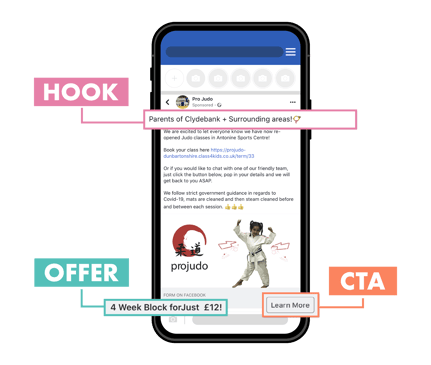 Brian from Pro Judo used a hook, an offer and a call-to-action in his ads! And guess what? He generated over 100 new enquiries during lockdown. Want to know how you can do this too? Read Brian's story here.
Get Creative...
With ad copy out of the way, you'll want to turn your attention to ad creative. After all, outstanding and attractive images or videos is what stops us scrolling through our timelines!
Task: Scroll through your social media and see what posts or ads stands out. Write down why, and what it was that made you want to click. Hey presto, it's your turn to get creative!
When it comes to ads for kids activity businesses, we know from experience that testing is SO important as it helps you understand what gets results.
Ask yourself what colours and patterns to include, and whether you'll use real or animated people. We'd suggest trying a few variations like action shots of in-class activities with bold colours like orange, pink or yellow!
Tip: You could also include the call-to-action we talked about earlier! Try this with different Facebook ad types - static ads, carousel ads - to see what attracts more attention.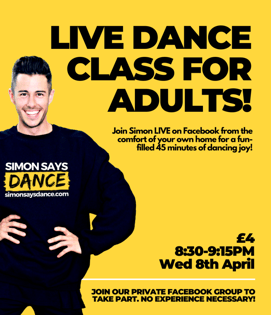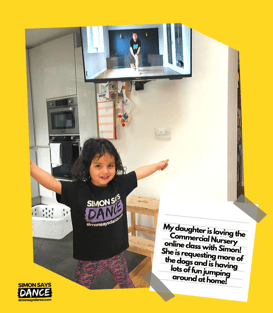 Simon Says Dance have made great use of bright colours to POP on their customer's timelines. Their ads are bold, include real people and engage their audience.
Connect with Your Customers (Authentically)
But exceptional ad copy and creative are only part of the solution to perfecting your Facebook ads. Creating a connection with your audience is what will convert interested customers into paying ones!
But how do you establish an authentic connection with your customers? Ad copy is a key ingredient to engage customers and helps them to know you, like you and trust you. But what else should you be doing?
Practically speaking, you should be connecting through organic posts, videos, Facebook lives, events, and groups. But even doing all that isn't enough!
Frequency and consistency are vital in keeping you at the front of your customer's minds. So what type of posts will help you connect with your customers?
You might want to pose relevant questions, share the story behind your business, celebrate your successes and milestones and run competitions and giveaways. Test and see what type of posts get engagement!
And right at the top of your to-do list - or at least it will be after reading this - is taking the time for Facebook reviews. Getting your current customers to shout about you is easy for you to implement, and it's free!
But why is it important? Because your prospects will want to know what others think about your classes and know more about your reputation! Find out how to create trust in your brand and converting prospects on your Facebook page.
So there you have it - our top tips on how to create the perfect Facebook ad campaigns! Now that you know what your ads need to pizzazz them (amazing copy and creative), why not take the next step and start building them?
Knowing how to build a Facebook ad will bring you the results you've been dreaming of!