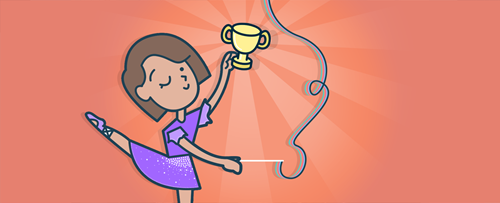 Parents! Does your child love their gymnastics club? Could they design their own leotard for them? 🖍 👯‍♀️ If you think so, your little creatives could win a custom-made leotard with Swarovski crystals worth £300 and a £50 Voucher by Elite Gymnastics and Ervy Sports! 🤩
Make your coach, friends and parents proud by representing your gymnastics club in our 'Design Me' Gymnastics Leotard Challenge!
There are many things to admire while witnessing a gymnast perform incredible stunts and manipulate their bodies to astounding shapes. With choreography in place, music in line and a routine that would rock the floor, what's left to be the cherry on top of a perfect gymnastics performance? That's right, the beautiful, eye-catching and functional clothes on their back. The gymnastics leotard.
Has your aspiring young gymnast ever dreamt about seeing their design creations come to life? From their imaginations to reality, swirling and swaying away right in front of your eyes? Well do we have a competition for you!
We want to find the Best and Most Unique Young Leotard Designer in the whole of the United Kingdom! Let your child set their creative spirits free by representing their gymnastics club in this competition! By entering, your child can stand a chance to win a custom-made leotard based on THEIR OWN DESIGN, and so much more!
Visit Elite Gymnastics for more details on their products!
https://www.elitegymnastics.co.uk/
You can also browse through the Ervy Sports brochures for more information on beautiful leotards!
https://issuu.com/ervy
WINNER'S PRIZE!
YOU'RE IN FOR A REAL TREAT!
HERE ARE THE AMAZING PRIZES TO BE WON!
A custom-made leotard which includes Swarovski crystals worth up to £300 made by Elite Gymnastics and Ervy Sports, based on the winning design!

A £50 Voucher for Elite Gymnastics

A ClassForKids certificate recognising your child as the Best and Most Unique Leotard Designer in the United Kingdom 2019 with the name of the club they're representing

A feature on our website and social media platforms!
HOW TO ENTER
Entering the competition is simple! Here are the 3 easy steps:
STEP 1 🤸‍♀️DESIGN A LEOTARD. Your talented gymnast can download the template here OR even go freehand! Go crazy!
STEP 2

💬

COMMENT your child's name,

🤚

TAG the club they're representing, and

📸

ATTACH AN IMAGE of the design on this Facebook post!

STEP 3 👍 LIKE ClassForKids and Elite Gymnastics page

That's it!
The final winner of the competition will be chosen and decided by the ClassForKids, Elite Gymnastics and Ervy Sports team! Get creative!
TERMS & CONDITIONS
This competition will run from 29th April 2019 to 17th May 2019

Winner will be announced on Monday, 13th May 2019

Participants MUST

TAG the clubs they're nominating, add the NAME of the swimming coach and the reason WHY this coach should win the prize. Please add it onto the comments section of the official Facebook post to enter the competition

Winner will be chosen by TYR and ClassForKids! Good luck!